International Studies
Are you planning to work in Foreign Service or international business? Obtain a well-rounded understanding of global developments and trends to succeed in the globalized world of the 21st century as an international studies major. NKU's international studies program is interdisciplinary and focuses on exposing you to international issues and politics through a variety of challenging and interesting courses.
Students majoring in international studies are required to take a modern foreign language and are encouraged to study abroad.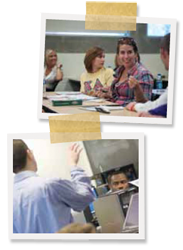 Department of Political Science and Criminal Justice
Bachelor's degrees
Political Science
Criminal Justice (also offered as an associate degree)
International Studies
Organizational Leadership
Minors
Criminalistics (recommended for natural science majors)
Japanese Studies
Latin American & Caribbean Studies
Middle Eastern & North African Studies
Pre-law
Selective Admission
Admission to the university does not ensure acceptance into selective-admission degree programs. You must meet these admissions requirements to declare a major in political science, criminal justice or international studies: for freshmen, a 21+ ACT composite (or 990+ SAT combined reading and mathematics score); for transfer students, a 2.5+ cumulative GPA.

Internship Experience
KevIn Donnelly
"My time spent in Washington, D.C., has been more than I could have ever imagined. I had a great internship at the Washington Center. I took a challenging class, met fantastic people and led a truly independent life. All of this helped me to not only learn more about myself as a person but also helped to examine my interests and skills to really focus on what I want to do the rest of my life."
What can you do with an International Studies degree?

Activist

Attorney

CIA Analyst or Agent

Communications Director

Consular Staffer

Coordinator of Aid Program

Corporate Advisor

Diplomat

Entrepreneur

Foreign Service Officer

Historian

Humanitarian Relief Worker

International Banker

International Research Specialist

Interpreter

Journalist

Legislative Analyst

Lobbyist

Mediator

Policy Analyst

Political Commentator

Political Scientist

Politician

Think Tank Strategist

University Professor